Packed full of protein, quality carbohydrates and antioxidants this berry smoothie makes the perfect recovery option for athletes. Quick and easy to prepare it is also a great on the go breakfast option.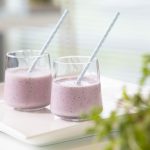 Ingredients
1 cup frozen berries

1 cup cows milk

½ cup Greek or natural yoghurt

¼ cup rolled oats

2 teaspoons of chia seeds

1 teaspoon of honey
Instructions
Add all of the ingredients into the blender and blend until smooth.
The great thing about this smoothie is you can make it the night before for a grab and go breakfast option.
Detailed Nutrition Information
(Per recipe) Energy: 1650 kJ (394 Cal) | 23 g protein | 13 g total fat | 6 g saturated fat | 41 g carbohydrate | 9 g fibre